CANADIAN JOBLESS RATE FELL TO A 42-YEAR LOW IN NOVEMBER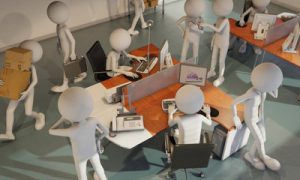 With so much bad news coming out about the economy, Statistics Canada this morning posted a blockbuster jobs report, mitigating worries about the health of the economy.
Employment increased by a whopping 94,100 in November, led mostly by full-time jobs that were broadly based across industries. This was the largest monthly jobs gain in records dating back to 1976. The unemployment rate fell to 5.6%, also the lowest in the data, from 5.8% in October.
The strength in employment was unexpected as economists forecast a gain of only 10,000. Just this week, the Bank of Canada painted a picture of an economy facing substantial headwinds, warning of turmoil in the oil sector, government ordered oil production cuts in Alberta and a potential U.S.-China trade war. Since Wednesday's central bank decision to hold rates steady announced in a decidedly pessimistic press release, markets had been pricing in only one rate hike in 2019.
Some analysts pondered whether the rate-hiking cycle is already over after five increases since the middle of 2017. "My bet is the BoC is done, period," David Rosenberg, chief economist and strategist at Gluskin Sheff + Associates Inc., told clients in a report this week.
In a speech on Thursday, Governor Poloz reiterated his view that the Bank will eventually need to bring the current 1.75% policy rate back into "neutral range" of somewhere between 2.5% and 3.5%–noting the environment of low unemployment, inflation close to target and an economy close to full capacity utilization.
The strong November labour force report certainly keeps a January rate hike on the table for now, but only if it is confirmed by strengthening incoming economic indicators and no reversal in the December jobs report.
The Canadian dollar rallied on the news–having dropped appreciably in the previous three days–and market interest rates edged upward for the first time in a week and a half. The five-year government bond yield, an important indicator of five-year fixed mortgage rates edged up three basis points, offsetting a bit of the monthly decline.
Even the oil-producing hub of Alberta showed strength, adding 23,700 jobs on the month and pushing down the unemployment rate by a full percentage point to 6.3%, near its lowest since 2015 (see chart and table below).
Employment rose in six provinces, led by Quebec, Ontario and Alberta, and was little changed in the four Atlantic provinces. In Ontario, employment increased by 20,000 compared with October, the result of gains in full-time work. The number of unemployed was little changed and the unemployment rate held steady at 5.6%. The number of employed people in British Columbia grew by 16,000 in November. The unemployment rate rose 0.3 percentage points to 4.4%. There were 5,500 more employed people in Saskatchewan. The unemployment rate declined by 0.7 percentage points to 5.5%, the second decrease in three months. In November, there were 2,600 more Manitobans employed. The unemployment rate fell 0.4 percentage points to 5.7%, as fewer people searched for work.
The private sector dominated the employment gains last month as more people worked in professional, scientific and technical services; health care and social assistance; construction; business, building and other support services; transportation and warehousing; and agriculture. At the same time, fewer people worked in information, culture and recreation. Employment in construction increased by 15,000, led by gains in British Columbia and tempered by a decline in Newfoundland and Labrador. Year over year, employment was little changed in the industry.
Employment increased for both core-aged women and men (aged 25 to 54), as well as for older people (aged 55 and over)—driven by men.
Jobs in the Cannabis Industry
For the first time, Stats Canada reported cannabis-related jobs. Non-medicinal cannabis became legal in Canada on October 17, 2018. The number of people employed in these jobs in November was 10,400, an increase of 7,500 (+266%) from 12 months earlier. The majority (58%) of cannabis-related employment in November was in the agriculture sector, where workers performed duties such as bud trimming. The rest of the hiring was spread across a number of other industries such as educational services, health care, and retail trade.
More men than women worked in these jobs (79% compared with 21%). The median age was 35 years, younger than the median for workers in non-cannabis-related jobs (40 years). Virtually all of the employees were working full time and had permanent positions. The highest level of cannabis-related employment was in Ontario, an estimated 5,700, representing more than half of the national total. Ontario is the province with the largest concentration of licensed producers.
Wages Weakened
The one negative component of the November labour report was the slowdown in the growth of wages. Annual gains decelerated sharply to 1.7% in November– the slowest growth since July 2017–compared to a 2.2% clip the prior month. Wage gains for permanent workers were 1.5%, also the slowest in more than a year. This compares to 3.1% year-over-year wage growth in the U.S.
The U.S. Posted Weaker Than Expected Jobs and Wages in November
U.S. jobs and wages rose by less than forecast in November while the unemployment rate held at the lowest in almost five decades, indicating some moderation in a still-healthy labour market.
Nonfarm payrolls increased by 155,000 after a downwardly revised 237,000 gain in the prior month, a Labor Department report showed Friday. The median estimate in a Bloomberg survey called for an increase of 198,000. Average hourly earnings rose 0.2% from the prior month, compared with forecasts for 0.3%, though wages matched projections on an annual basis, up 3.1% for a second month.
Tariffs began to bite as employment gains at primary and fabricated metals manufacturers edged upward, but people who use those metals like auto and auto parts manufacturers saw job cutbacks.
Christmas hiring did not match last year's pace as retail jobs rose by 18,000 roughly 10,000 fewer than this time last year, mostly at department stores. These gains were offset in part by job declines at furniture stores, clothing and accessories stores, electronics and appliance stores, and bookstores. This might have had something to do with online shopping uptrends as couriers and messenger jobs increased significantly.
The broader measure of unemployment known are U-6, or the underemployment rate rose to 7.6% from 7.4%. This measure includes part-time workers who want a full-time job and people who are less active in seeking work.