BLOCKBUSTER APRIL JOBS REPORT SIGNALS THE ECONOMY HAS TURNED THE CORNER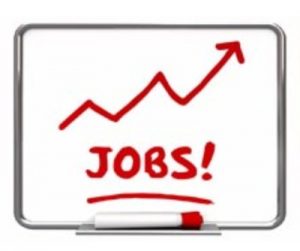 Canada posted a record job gain last month, along with a decline in the jobless rate and a pick-up in wages, providing the strongest signal yet that the economy is coming out of a six-month slowdown. Other data this week portend a rebound in economic activity, including a strong bounce-back in exports and a surge in housing starts.
Statistics Canada announced this morning that employment rose by a whopping 106,500 in April, the biggest one-month gain since the start of this data series in 1976. This was dramatically above the median forecast of economists of 12,000 net new positions. The Canadian jobless rate fell a tick to 5.7%, near a four-decade low.
This report showed broadly based strength across regions, sectors and provinces. Full-time jobs jumped by 73,000, part-time positions rose as well by 33,600.
On a year-over-year basis, employment grew by 426,000 (+2.3%), with gains in both full-time (+248,000) and part-time (+179,000) work. Over the same period, total hours worked were up 1.3%.
Employment increased in Ontario, Quebec, Alberta, and Prince Edward Island. It declined in New Brunswick and was little changed in the other provinces. Quebec posted an unemployment rate of 4.9%, the lowest in recorded history. Jobs in Alberta gained steam following two months of little change.
Employment gains were spread across several industries: wholesale and retail trade; construction; information, culture and recreation; "other services"; public administration; and agriculture. At the same time, employment decreased in professional, scientific and technical services.
Construction punched above its weight for the first time in many months. Gains were concentrated in Ontario and British Columbia. This likely foreshadows a stronger spring season in existing home sales.
Provincial Unemployment Rates
(% 2019, In Ascending Order)
Province                                      April     March
British Columbia                        4.6            4.7
Quebec                                         4.9            5.2
Manitoba                                     5.2            5.0
Saskatchewan                             5.4            4.9
Ontario                                         6.0            5.9
Alberta                                          6.7            6.9
Nova Scotia                                 6.9            6.2
New Brunswick                          8.0            7.9
Prince Edward Island               8.6            8.9
Newfoundland and Labrador 11.7            11.5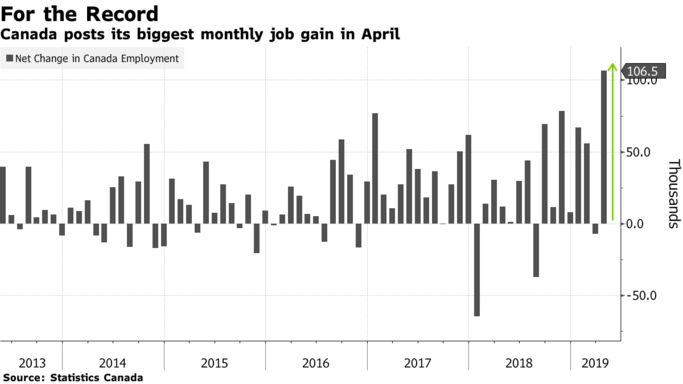 For many months the labour market strength has been the mainstay of the economy. Many had warned as recently as last month that Canada could be headed for recession amid a perfect storm of negative factors — falling oil prices, volatile financial markets, higher interest rates, cooling housing markets and global trade tensions. But many of these elements have begun to dissipate.
Exporters showed across-the-board resiliency in March after shipments tumbled in February. Toronto's housing market, the country's largest, is stabilizing after a recent slump. There are also signs consumers continue to spend and borrow, aided in large part by the buoyant labour market, even amid worries about the outlook.
Even wages have strengthened. Pay gains for permanent employees rose to 2.6% year-over-year, the sharpest rise since August. Total hours worked also increased, rising by 1.3% annually in April, up from 0.9% in March. Youth unemployment fell to record lows.
Bottom Line: This very positive report opens up the possibility that the Bank of Canada might take a more hawkish stance at their next meeting. It might well be that a rate hike sometime later this year is no longer off the table. One critical uncertainty, however, is the heightened trade war between the US and China. If the two sides hike tariffs sharply, a possibility given the current sabre rattling, Canada's economy could once again be hit in the cross-fire.